Skip Navigation
Website Accessibility
THE INN AT CEDAR GROVE
Our Story

Cedar Grove Mansion was built by a jeweler, banker, and landowner John Alexander Klein, for his bride Elizabeth in 1840. During construction John and Elizabeth traveled to Europe for two years to furnish their home. The impressive Greek Revival mansion was completed in 1852 to become one of the largest and most beautiful estates in Vicksburg. Over the next years, John and Elizabeth have ten children and add first a South wing and then a North wing onto Cedar Grove Mansion. Then in 1863, during the siege of Vicksburg, Civil War brought an attack on the city and house by cannon fire. The home survives with a few war-torn scars that you can still see today.
Cedar Grove survives possibly because Elizabeth Klein was a cousin to William T. Sherman, who used the grounds as a field camp and later a military hospital. Although John Klein suffers financial set back from the war, he builds four more mansions in the neighborhood for his children; "The Corners" for Susan, "Bellevue" for George, "Floweree" for John Jr., and "Annabelle" for Madison. Three of these mansions still survive. The area makes up the Historic Garden District with shared gardens from the mansions down to the Mississippi River.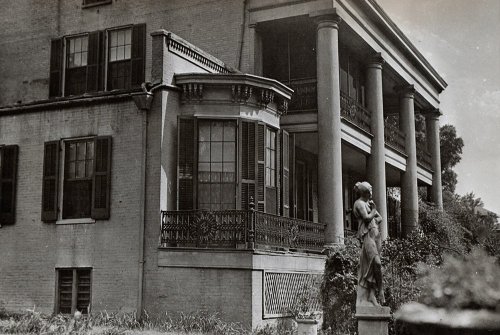 John Klein passes away in 1884, and Elizabeth in 1909. The Kleins keep the house in the family until 1919. The Tonnar's live in the house for 17 years, then the Podesta's who were married into the Klein family reside there for another 14 years. Then in 1960, the Vicksburg Theater Guild with the World Record for the longest-running show "Gold in the Hills" saves the Mansion from demolition. They offer tours of the home and use the ballroom for "Gold…" performances.
In 1981 the house is sold again but becomes a resort hotel owned first by the Kinsmans, then the Mackeys. The Small Family purchased the property in 2003 and eventually donate it in 2018. Cedar Grove remains open as a small hotel until 2020. The current owners, Harley Caldwell, and Steven and Kendra Reed purchased the estate in early 2022 and set out to save this important, historic icon of Vicksburg. After a lot of renovation and community encouragement, the mansion reopens to the public in late 2022. Now, better than ever The Inn at Cedar Grove welcomes you back to be part of our history. Listed on the National Historic Register, the Inn at Cedar Grove truly is the crown jewel of Vicksburg if not the South.
Timeline & Klein Ancestry

Cedar Grove Mansion is built in 1840 - John Klein & Elizabeth Bartley Day
John Klein - Born 11/15/1812 Waterford, Loudon County, VA, and moved to Vicksburg in 1836, Married 11/8/1842, Died 2/3/1884
Elizabeth Bartley Day - Born 1/2/1826 Mansfield, OH in Richland County, Married 11/8/1842, Died 1/7/1909
Children:
George Marion Klein (Banker) - Born 9/24/1844, Served in the Confederacy 1862-1865, Married 7/30/1868 Louise Harrison Balfour, Lives at Bellevue Mansion on Klein Street (just kitchen house remains), Died 4/7/1923
Eva Virginia - (1846-1848)
Clara Estelle Birchett - Born 12/4/1848, Married 5/15/1866 to Dr. Theopholis Gilliam Birchett, they lived on Adams Street, Died 5/12/1932
Madison Conrad Klein (Hoteller/Accountant) - Married 1878 or 1879 Mariah "Ridie" Howerton and had children, lived in Annabelle Mansion, moved to Morehead City, Carteret Co. North Carolina, Died 4/1/1915 in NC
Susan "K" Bonham - (Lives at The Corners until 1917) Born 3-13-1853, Married 5/7/1872 to Isaac Bonham, Widowed 1883, Died 12/15/1935
John Alexander Jr. (Captain/Attorney) - Born 2/8/1857, Married 5/1885 to Annie L. Podesta, Died 6/2/1929
"Lizzie" Elizabeth Conrad (Conard) Reeder - Born April 1860, Married May 1885 to William W. Reeder, Died 8/1/1914 or 1915
Harry Day Klein - Born 1/30/1859, Died 5/2/1859
Willie T. Sherman Klein - Born 9/2/1863, Died 7/11/1879 in a hunting accident
Frank Howard Klein - Born 9/26/1866, Died 9/22/1878 of yellow fever
1850 - Expanded, added South Wing (Library, Portico, Ballroom and Klein Grand Suite)
1863 - Expanded 1856, added North Wing (Dining room, Uncle Henry room 8 and storage space), House was used as a union field hospital
1870 - Additional renovations 1870 (current space for restaurant used for storage)
Cousin Major General William Tecumseh Sherman - Born 2/8/1820, 1840 graduated West Point 6th in class, Died 2/14/1891. His sister Susan Denman Bartley marries Elizabeth Klein's maternal uncle. Thomas Wells Bartley (Mom's brother). Thomas serves in Senate and later became Governor of Ohio. Sherman has 7 children 1851-1864, 5 that live to adulthood. Sherman knowing that the siege is about to be laid down, intervenes with his pregnant cousin Elizabeth and sends her to New Orleans for safety. She gives birth to a son and names him Willie Sherman Klein in his honor.
1919-1936 - Antoine "Antone" & Anna Tonnar live there until he dies, and she sells Cedar Grove
1919 - Klein graves are moved from Cedar Grove to Cedar Hills Cemetery
1936-1960 - Dr. August J. Podesta was a prominent physician who served as a superintendent of the Mississippi State Charity Hospital in Natchez (1920-1924). Note that John A. Jr. married Annie L. Podesta in 1885
1960-1979 - Vicksburg Theater Guild until they moved to the Parkside Theater Guild on Iowa street. Longest running show "Gold in the Hills." During that time the house experienced a fire in the restaurant section. In 1976 the house was added to the National Register of Historic Places.
1979-1981 - R. L. Harper purchase for $260,000
1981-1983 - Herbert and Terry Kinsman renovated and opened as a Bed and Breakfast 1982
1983-2003 - Ted and Estelle Mackey owned and expanded B&B to include a pool house, carriage house, cottages, and church. High mark for the Bed and Breakfast, hosted many weddings etc. $1.7million annual revenue
2003-2018 - Phyllis Small GPS Investments out of Natchez, operates the B&B successfully for a few years, and then gives it away to an unknown charity.
2018-2020 - Mark Zipperer of Pride Hospitality out of Memphis buys the property, closes the restaurant, and sells.
2020-2022 - Tommy Hughes and Eli Perez (THEP Corporation) Tommy was a direct descendant of George Klein of Bellevue. He closed B&B business and did some demo work and replaced the roof.
2022-Present Day - Harley Caldwell with Dr. Steven T. Reed and his wife Kendra, Cedar Grove Mansion LLC. CGM is investing heavily in major renovations and reopening as an Inn.